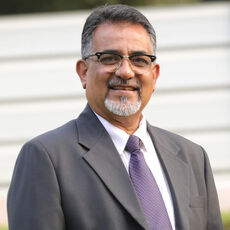 Adopting the Digital Mindset - Part One

Description
Welcome onboard the Digital Excellence Pharma Academy
On this page on Friday, May 1 you can attend the first of a series of 40+ webinars and other resources by Indian Pharma and global thought leaders to fully equip Indian Pharma sales and marketing professionals with the knowledge, skills and most importantly the mindset to turn the Covid19 crisis into an opportunity to transform our business model and become equipped with new mindset, knowledge and skills to create meaningful customer engagement and experience.
Click the join button, or accept the invitation to join the discussion room, post questions and interact.
A project by CredoWeb and MedicinMan
Video
What percentage of Indian Pharma/Devices companies have understood that Covid-19 is a disruptor that has completely changed their way of doing business?
Digital Adoption - Are You Pioneer, Migrator or Settler? Are doctors ready for digital adoption? How can pharma exploit the digital media? Read this special issue of MedicinMan to know more...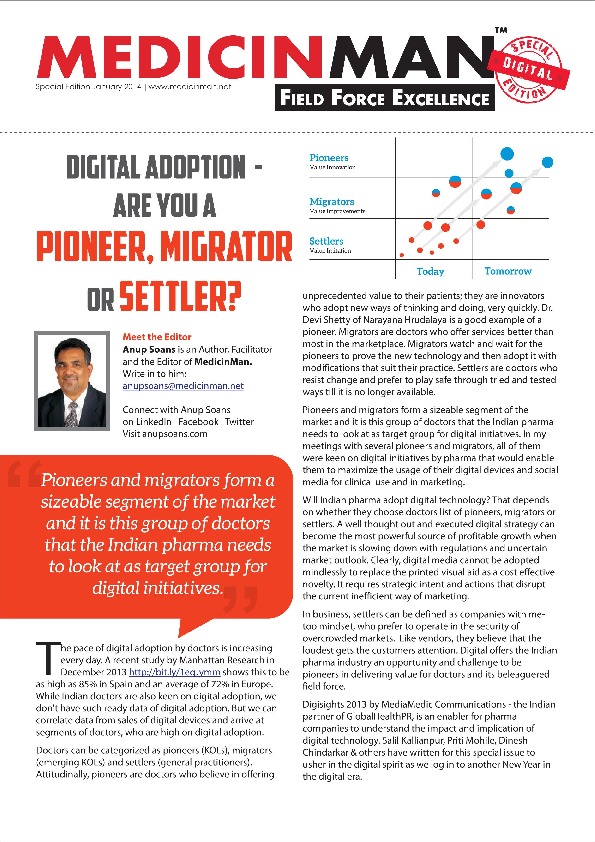 1 / 16
Thank you all for being part of our first session! You can continue interacting, posting questions and sharing your feedback in the discussion board for one week until our next session. You are welcome to take part in the poll below:
How did you find the grand opening of Digital Excellence Pharma Academy?
I am ready to break the sound barrier!
68%
sir, please try to emphasis on small & mid-size companies also how they will adopt digitalization due to their limited resources/finance/informalL&D structure etc. How they will take this challenge & proceed further.
Thanking Anup Sir from the bottom of my heart for starting this program which is very much required. My 3 key learnings from this session are:- 1. You need to develop a barrier-breaking mindset to achieve the desired results. 2. Equation of CHANGE that blew my mind 3. No matter what your ability is, it is an effort that determines results Excited to start this journey
Loved the session Anup. Great slides and messages.
Nice platform to build up the belief first before practicing the digital platform.
This wonderful start to be what is expected to be an exciting learning journey, Industry Specific and country specific, executable and scale-able. Looking forward to learn and share. One great thing brought about : Segmentation of Customers in parameter of the digital behavior, that helps in content creation , platform application targeted to specific segments of digital curve and meet ultimate objective of Reception of Key Messages. Which ever Marketeer and Organization is able to do that will be ahead of the curve and create differentiation. Agree all starts with MINDSET. " Necessity is the mother of Invention" - True for all level.
Perfect Program -Perfect timing but I feel that it should be completed within 3-6 months because immediately after Lockdown we need to respond in a post Covid era of market and Pharma professionals even Companies are not ready with the remedy...Thanks
Great start on mindset change...appreciate insights and examples shared..thanks credoweb to provide excellent platform.
Great start...Anup. You have my support to make it meaningful, relevant and more importantly, triggering action. All success ahead
Hi Anup ..I happened to meet you in Leela on 24th April 2018, ... Good Introductory session for Opening a Mindset for Digital Pharma Marketing a much in waiting and at a Right time now, Congrats for Great Beginning & Good luck for the rest to you Manish my Friend and Credoweb.
Congrats! Anup Sir, For inception of very important platform for pharma professionals to express, learn and act. True! changed mindset, holds imperative in current evolving era and needs us to tune our mindset to adapt to the changing scenario.
First and foremost, I would like to thank you for starting this digital change initiative through Credoweb. Very insightful presentation! During these challenging times, as aptly explained by you, there are a lot of uncertainties and ambiguities lying ahead in a post-COVID era, however, digital leaders like you who have the vision to bring a transformation on a such a large scale are the ones who are steering the pharmaceutical company in the right direction. I am honored to be a part of such a unique learning experience and would instill the changes mentioned by you in my day to day activities. Looking forward to these amazing sessions. Thank you, Sir.
wonderful initiative .Thanks sir
Great opener, Anup. Thanks for putting this program together. This is certainly is the need of the hour for Pharma.
Congratulations Anup for very inspiring inaugural session "Adopting the digital mindset". Great example of Chuck Yeager -The barrier was not in the sky but in the mind. Such initiatives will help bridge the much needed skills gap for pharma professionals and will immensely help them to shape their careers. Best wishes for the 12 months well thought and designed learning journey.