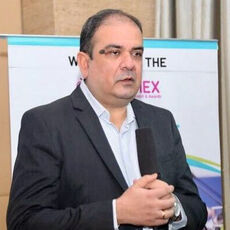 Leveraging Digital in the New Normal

Description
Welcome onboard the Digital Excellence Pharma Academy!
Get access to 40+ webinars and other resources by Indian Pharma and global thought leaders to fully equip Indian Pharma sales and marketing professionals with the knowledge, skills and most importantly the mindset to turn the Covid19 crisis into an opportunity to transform our business model and become equipped with new mindset, knowledge and skills to create meaningful customer engagement and experience.
Live sessions will take place every Friday at 17:00 IST. Every Pharma Professional, registered on CredoWeb, will receive special invitation for every live session and virtual discussion.
In this week's session, Salil Kallianpur will be talking on "Leveraging Digital in the New Normal" – Insights for better customer engagement and experience – How can Indian Pharma move from commodity and brands to engagement and experience?
Video
Live session today at 5 pm! Stay tuned for an insightful conversation between Salil Kallianpur and Anup Soans.
I wish more and more people at the C-Suite Level listen to you!😊💐
Yes sir whatt you have discussed is absolutely correct. Service experience to customer has become key currently. Service not by just providing PPE Kit or masks and expecting business its about giving Dr a new experience, probably creating an app of telemedicine where Dr can through video call assess the patient, prescribe medication share same to patient, keep a database and also referring patients to for various tests and also to hospitals.
Really an informative content and engaging session. Thankyou Sir.
Great insights. Real world evidence data seems to be a big game changer to fast track regulatory approvals. Does that mean the controlled clinical trials data take a backseat for sometime ? How many drug approvals have happened based on the real time data? Unfortunately side effects come to light after the drugs hit the market. Won't it increase the chances of doubling the side effects considering the coupled effect of real time & controlled CTs of a drug/vaccine?
Great learning from this session for brand managers to exploit the digital era. Thanks a lot
Great Insight and eye opener session , Thanks Salil Sir
Thank you Kallianpur Sir for an enlightening session, though I cud login much later s I got delayed in traffic.....for the changing scenario, this was most relevant to say the least as more and more pharma organizations realize that digital is the only effective reach if understood well and used. THANK YOU for an excellent wide angle view on the possibilities as we evolve and adapt to a changing environment in pharma....thought provoking indeed!!
Salil, the session was indeed very nice. It provided insights and at the same time ignited the mind to look at the future, long term. You have created a new paradigm, turned the funnel upside down which shoud compel pharma companies to rethink their approach of marketing.
Hi Sir, The presentation was so informative and I could realize that sending invite to attain webinar or got-meeting or zoom for scientific update session is not exactly because we are thinking about my products, my topic, my targeted HCPs / Customer wereas Pharma Industries need to upscale towards Service & Experiences oriented motive. The really threat is not the Pharma industries but High Tech Industries like Amazon, Google, Apple, Nike, Microsoft ( Awesome !! )
V.Nice Session Sir. Learned many new insights.
Salil sir, thank you for this valuable session. what can be the possible KPIs for a digital initiative.
Amazing job Salil! Very forward looking and supported by corporate examples. Enjoyed the session. Thanks.
Very much practical and informative session. Though, an unusual sort of challenge is to make customer adopt to the services that we are arranging for benefit of them (e.g. telemedicine). It actually seems like we have to first promote those services to them to use it. Secondly, the digital partner is another field force like entity that we will have to run in parallel to our actual field force which is going to add cost. Would appreciate a comment?
Excellent, Salil. I am sure your talk and presentation will be helping pharma to transcending beyond mere intention to meaningful action. This is really a call of awakening with a compelling feeling that should invite pharma marketeers to leave the familiar patterns and explore the unfamiliar ones. In the challenging context, this will propel them in the growth path and help them reach newer heights. Well, done.