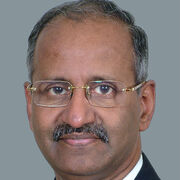 Leadership Challenges in COVID-19 Crisis

Description
In this week's session, Hariram Krishnan, former Managing Director of Galderma India will discuss, Leadership Challenges in COVID-19 Crisis.
How is Covid19 and the lockdown affecting pharma companies? How well are pharma leaders responding to minimise threats and maximise opportunities presented this crisis?
Contrary to popular belief, digital transformation is less about technology and more about leadership and people.
Chasing after shiny new (digital) objects may help pharma companies appear to be sprinting, hare-like, ahead. But that's not what's going to lead to sustained results. The need is for a strong and determined leadership.
Stay tuned for more valuabel insights. We air our next video on May 29, at 5 pm.
Live session today at 5 PM. Stay tuned for Anup Soans and Hariram Krishnan's insightful conversation.
Very informative, useful and need of the hour in digital engagement
dear sir Both Hariram sir and Anoopsoan sir Privilege to attend your live session
very much informative sir, thank you for the session. as you explained on change equation all component matters, how bout the alignment with the field force and middle manager for transformation. also upgrading the field force skill, resources and motivation. the future of evaluation of the should not be product centric.
Very much informative slides sir .. Thank you for helping us to overcome new chanllenges.
Thanks @Hariram Sir for such a highly insightful session!
Dear Hariram Sir Your session was very enlightening & properly explained as per the current scenario of Indian Pharmaceutical Organizations. It's important that the top line management needs to keep a broad mind & embrace the current scenario of Covid 19 & the digital tranformation & not take it as short term excercise but for long term. However wanted to know if the marketing team & the midd... See more
Dear Sir, great learning from your session. Thank you.
It was a pleasure listening to your presentation Hariram Sir. I appreciate the thoughts and concepts. Your 'Formula for change' was interesting and I like the words 'next normal'. I will reinforce your talk with what David L.Rogers writes ' Digital transformation is not about technology- it is about strategy and new ways of thinking'. We need thought leaders like you for digital transformation ... See more
Thank you very much sir for your valuable views on the need for digital transformation. In these uncertain covid times, digital is the only effective way to reach our customers. we must strive to improve this mode of reach to get a better recall from our customers.
- Digital Engagement is Pull driven and Data-dependent - The conventional pharma has always been push driven and relationship (Transactional driven) dependent. Q How do we converge the divergence within the chaos of generics clutter? -The current levers of Pharma are CRM and Rep dependent - The data source in Pharm has been the Rep daily reporting which is subjective/questionable and ever-c... See more
Thank You Hari Sir for sharing your perspective on Digital transformation with data. I totally resonate with your Outlook sir and Digital Marketing is going a mark in Pharma Sales very soon.
Thank you Hari Sir for your valuable insights....Very important for us to understand that Digital Transformation is more about people than technology contrary to popular belief, and it is the leadership which has to ensure that it is understood.....and the change has to have a purpose which has to be laid down before the journey is started in the organization. Loved the flow of thoughts. Lookin... See more
Sir, end of the day, one more important lesson iterated - if technology is a gun, it's always the person (Talent) behind the gun which is going to make the difference.
Respected Sir, It was a Great experience to get this learning opportunity from you on Credoweb platform. Sir , I fully agree that Digital transformation is the only way of marketing in Next Normal . But , Sir how we can address the following challenges : 1. In our 136 Crores Populated Country Doctor Population is very Poor . So each Dr.has to attend huge No. of patients every day . In my hand... See more