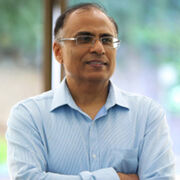 Is Telemedicine Here to Stay?

Description
Is Telemedicine Here to Stay?
9 million people used telemedicine services during the early months of the crisis.
$4 billion was billed nationally for telehealth visits during March and April, compared to less than
$60 million for the same two months of 2019.
Watch our Live Discussion on Telemedicine on Wednesday 12th August with Dr. Shenoy Robinson and Webinar on Friday 14th August 2020.
Missed yesterday's live session? Not to worry, you can still watch it here. And feel free to post your questions to our faculty.
See all comments...
telemedicine is an effective tool which has immense potential to scale up. However , it is easier said than done. while telemedicine has gained renewed attention due to Covid-19 And digital bandwagon firing all cylinders to noise it up... the challenge lies in the overall participative competence of HCPs and most importantly..the masses!! Telemedicine need to find a significant space in medical... See more
Thank you very much sir for insightful information about telemedicine. You covered beautiful aspects & elements of this platform and how someone can use this platform for desired results. As per as my observation many Doctors are using WhatsApp as medium for Tele consultation ? What is your prescriptive on this whether it comes under MCI or Doctors need any specialized application ?
very nice. more insights given
Telemedicine is an SBU opportunity for Pharma companies. Alternatively, Pharma companies can collaborate with running Telemedicine providers. Thanks, Dr.Shenoy Robinson for the crisp presentation as sharp as your personality.
It was a pleasure listening to Dr.Shenoy Robinson giving us a 360 degree perspective of Telemedicine. Anup, you spoke of the Railways doctor at Byculla, this reminded me of the Railways Hospital(Wheel factory) at Yelahanka, Bengaluru. I visited the hospital before the lockdown and found that the standards surpassed my expectations from a Railways establishment. They have an EHR in place. Likewi... See more
Nice Session. Truly Telemedicine will be a game changer only if Net issues are addressed. Dr. Take offences when people consults Google. But if teleconsultation available, people will avoid Googling. Because patients also want personalised guidances. When not available, then they go for Google.
It was a good session . More such sessions are welcome Technology shouldn't drive tele medicene but adapt to it -- healthcare should do it . Insurance would play huge role and pharma companies can pitch in talking to all stake holders and create a business model which is win win situation for all . More opportunities are in Rural India for patients but the challenges are many and its upto the ... See more
Looking forward to know many New
Looking forward to a great learning session
Tele-medicine adoption is going to increase in days to come. Although factors like geography, therapy areas, fresh v/s follow-up consultation will play a role, it would also depend on how likely the patients in a given area of a given doctor are willing to adopt.
What is biggest question in my mind , is that telemedicine is only limited to metro City or bigger City ? What about rural India? Still there is a lot more people who is not technology friendly.
Tele-medicine is here to stay !! The only answer i will be looking for is, how much impact it will have? Convenience is the biggest hook and the customers (i.e doctors and patients) will get used to it The other factor which will have an impact is the type of customer segment or personas. Young doctors/patients, in metro cities shall be the early adapters.
We know that healthcare access is already a challenge for rural India. Few questions: How do you think telemedicine will reach bottom of the pyramid population? Any ideas on how to reach them in profitable way? (not minting profits but just enough to sustain the business) Any companies who are already working in this direction of providing telemed to rural/urban poor? Thank you
this is a tricky question and the answer would greatly vary from therapy to therapy. one thing where teleconsulting maybe more permanent is when it comes follow up visits wherein the dr n patient would likely switch to teleconsulting on a more permanent basis, saving money n time for patients and optimizing the patient flow for a dr. w.r.t to specialties or therapies wherein physical check up ... See more