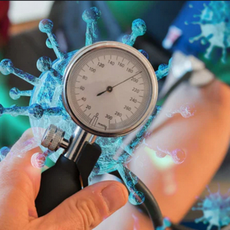 High blood pressure linked to increased risk of dying from COVID-19! Are you at risk?

Description
Patients with raised blood pressure have a two-fold increased risk of dying from the coronavirus COVID-19 compared to patients without high blood pressure, according to new research published in the European Heart Journal.
In addition, the study found that patients with high blood pressure who were not taking medication to control the condition were at even greater risk of dying from COVID-19.
Researchers in China and Ireland analysed data from 2866 patients with COVID-19 who were admitted to Huo Shen Shan hospital in Wuhan, China, between 5 February and 15 March 2020. The hospital was opened on 5 February exclusively to treat coronavirus patients. Of these patients, 29.5% (850) had a medical history of high blood pressure (hypertension).
The researchers, led by Professors Fei Li and Ling Tao from Xijing Hospital, found that 34 out of 850 hypertensive patients (4%) with coronavirus died compared to 22 out of 2027 patients without hypertension (1.1%) – a 2.12-fold increased risk after adjustment for factors that could affect the results, such as age, sex and other medical conditions.
Read more: https://www.escardio.org/The-ESC/Press-Office/Press-releases/High-blood-pressure-linked-to-increased-risk-of-dying-from-COVID-19