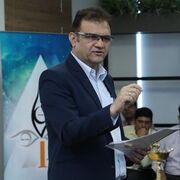 Leading with Emotional Intelligence

Description
We are in the middle of huge crisis and uncertainty. The Covid-19 crisis is taking a toll on Indian Pharma Leaders. Many leaders are not sure - what is of critical importance at this time? What are they are supposed to do and how they are supposed to do it? There are enormous challenges that majority of leaders have not faced before.

• Many leaders had to take a pay-cut, downsize their teams, and deliver bad news up and down the organisation.

• Working from home for months and feeling stressed because there is no light at the end of the tunnel.

• What can you do to stay focused and upbeat during this prolonged uncertain time?

• How can you learn to reframe the situation that you are facing?

• Who can you vent your frustration and feelings to? And, what can you do to recharge when most of your usual outlets are not available?

Leading effectively — especially during a crisis, needs emotional maturity and patience. If you can't retain your cool and composure in the face of frustration and adversity, you won't be able to keep others in your team, calm.

While this is really difficult, how can we change our focus and think about it differently?
This is probably the biggest growth opportunity that you will ever have in your career, If only you can manage through this and make sure your team weather this storm.

Let's discover the power of emotional intelligence in leadership, and challenge how leaders can develop this competency to not only improve self-management but also handle interpersonal relationships judiciously and empathetically.
Our Q&A session airs at 5 pm! You can still watch Wednesday's session here:
Describe your most dominant emotion / feelings in last six months in one or two words:
Motivated & Energised
18%
Vulnerability & Helplessness
8%
Confusion and Disappointment
13%
Any Other (please leave it as a comment)
0%
Once complex set of emotions are identified, accepted, explored and reframed, they become a strong foundation for making the right decision. The decision needs to be aligned with goals.
Well designed interactive discussion with Deepsir and Anupsir...Thoughtful insights... Thanks Basically Leaders has TO BE A GOOD HUMAN BEING one of the MOST INTEGRAL CRITERIA of Leadership and then to demonstrate it EI among the TEAM Everything follow after that...High Time to invest genuinely in EI.. There are excellent leaders in the various industry e.g Mr.Ratan Tata,Mr.K.R NarayanMuthy...to... See more
It always gives a great pleasure to listen you deep sir.you explained importance of EI in a very simplified way ,a great learning experience.Thank you for presenting such a interesting & insightful topic considering the tough ,challenging time we all are experiencing. Regards.
EQ or emotional quotient reflecting emotional intelligence is the only differentiator in reality. This is because most people are not doing Einsteinian jobs, so average IQ is sufficient, however, the differentiator between performers is their EQ (aka social skill and empathy mainly). Further, improving IQ is a difficult thing - but improving EQ is doable and easier. EQ is helpful for success... See more
Thank you, Deep Bhandari, for presenting a very relevant topic for today's situation. We need Emotionally Intelligent Leadership at the workplace. These organizations will not only look at the new Skillsets which are Analytics, from new recruits but also their Emotional Intelligence.
Excellent view points on EI which is absolutely apt in present scenerio and should be dealt with greater seriousness to prevent talent loss for organization.
This is so wonderfully presented sir. Important topic and so well brought to us. An investment in a true multibagger. Enriched really.
It is always a pleasure to listen and learn from you Deep Sir . Leading with Emotional intelligence is really simplified for all of us to understand and implement in these challenging times . The five components of EI starting from Self awareness to social skills is important in determining leadership types or developing leadership skills. In today times , Emotional intelligence is not only s... See more
It depends upon liabilities and responsibilities. People under such Uncertainty situations one should focus on what is in their control and what they can influence. Things which are not in control should not waste energy on thinking on this, example retrenchment or lay off if any is not in our control, but think of alternative income within the time is in our control like learning or enhancing... See more