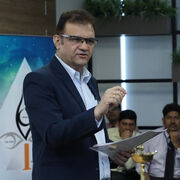 Decoding Indian Pharma's Approach to Digital Adoption and Transformation in a Covid-19 World

Description
The current challenges:
Sales are declining in most cases. However, the sales of established brands are steadily growing, even with the field force unable to meet doctors at pre-Covid levels.
Most non-Covid patients are unable to access doctors due to various constraints, forcing doctors to quickly adopt digital in some form.
Healthcare is at an inflection point, where digital adoption becomes a necessity to fix its inefficient and already broken model of decreasing interest by physicians to meet Medical Reps, poor quality and high attrition of field force and legacy systems and lack of customer engagement and customer experience oriented marketing.
Today's Q&A starts in just a few minutes. Join Anup Soans & Deep Bhandari for yet another inspiring conversation. Don't forget to post your questions on the discussion board. And if you missed Wednesday's session or want to watch it again, here's the link:
Challenge is to Retain Prescriber and ensure growth of prescription is maintained.
The challenge is to improve on "Average Effective Rating". The challenge exists not only application of Digi-tools but virtually to entire gamut of marketing tools and techniques. If there could be greater focus on methodology to improve on AER, it will help all.
Great presentation and wonderful insights +++ just playing devils advocate... ....For all the strong push and inclination towards digital transformation, I have a basic question of evaluating the impact of it in my mind, has any one demonstrated the effectiveness of it?,(in Pharma world?.. will be very keen to know) we have seen even now(based on the survey results presented by Mr Bhandari) th... See more
Excent Forcasting On Multiple Capability Buiding In New Normal Era of Digital Transformation. Thanks..
My take-away from Deep Bhandari's presentation today is that Digitization is to improve HCP engagement by improving Commercial team engagement and their capabilities. Leadership has to invest in reskilling the field force and empower them to integrate face to face calls with remote detailing platforms. The Road Map to Digital Adoption was very relevant to repurpose roles and structural alignmen... See more
Very insightful insights for pharma professionals!😊💐👌
Key aspects of a high value topic, presented in an insightful Deep Bhandari style. Some hard messages too. Thank you!
Pertinent , very relevant topic presented so very well in the deep bhandari style. Enriching.
Future of pharmaceutical industry ?
It's true that doctors are not allowing marketing staff for the professional calls and only those individual who have over the years developed closeness are able to access their customers. All in all finally it has shown once again that relationship is what would be a leading factor in Pharma industry.