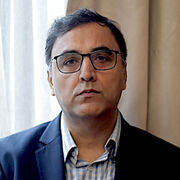 Field Force - KPIs for the New Normal

Description
In this session Shashin Bodawala takes us through the KPIs that have served well till the COVID19 crisis and how the Key Performance Indicators are changing as pharma companies come to terms with the New Normal
Speaker: Shashin Bodawala, Director – Business Excellence, Go To Market & International Business at Boehringer Ingelheim
Shashin's current role is to improve customer experience through Go-to-Market initiatives by driving data to deliver insights which translate in appropriate actions.
His team helps the brand teams identify customer segments, deliver customized content, solutions and services on different channels and platforms. His role is to manage these different teams specifically focused on data, digital marketing and capability building.
Shashin also independently manages the International Business for the rest of South Asia.
In the last 10 years, he has had the opportunity to help build and develop a profitable business from scratch. In the last one decade has launched some of largest brands in the market which has eventually created the fastest growing pharmaceutical company (for the last few years) in India
In a career spanning 35 years, he has grown through grassroots to eventually managing large businesses across therapies including Cardiology, Diabetes, Neurology, Urology & Critical care
Today's session airs in just a few minutes. While you wait, you can revisit Wednesday's presentation.
Poll Question: Sales Force KPIs are a valuable tool to map their progress, but determining right KPIs during Covid -19 is a real challenge. How the Sales Force KPIs have changed in your organization during past six months:
Please chose one of the following answers:
As quoted "What Gets Measured Gets Done" , Pharma companies needs to adopt Hybrid/Flexible model of engaging HCPs. Also to need to understand that even if everything becomes fine Post COVID, things that worked pre COVID may not necessarily work post COVID. Also Reps need not to fear loss of job as companies are going more Digital, Digital Engagement is possible through them only.
Relevant topic in today's changed selling situation
These KPIs are well thought of keeping both traditional and digital channels of HCP engagement. For all these activities to yield the desired results the Med Reps need upskilling to effectively deliver through the new channels. What about Sales Performance? Isn't it a KPI?
Excellent presentation Shashin.Thanks for highlighting a new KPI going forward in new normal,post covid era.Balancing Phigital ( Physical and Digital) approach to maximize business through very well curved out KPIs..
Excellent Presentation ! Complements ! One quick Question, what is your recommendations of weightages for different Channel Exmple. F2F %wtg, Remote Detailing %wtg Rep triggered Email % Wtg?