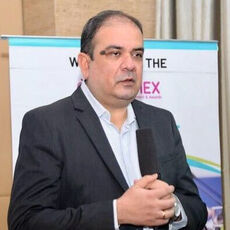 Beating Digital Darwinism - Indian Pharma Needs a New Robust Strategy Not a Digital Strategy

Description
Keynote:
Gartner predicted in 2014 that 75% of all businesses (not just pharma) would eventually become or prepare to become digital businesses by 2020. There is no way they could have seen, Covid catalyse the change, and yet their prediction came true. This eventually means that more 90 percent of customers are already online, since businesses merely follow customers and rarely blaze a new path. The forced shutdown since March helped us realise this in the best possible manner.
As physical meetings with customers became off-limits, companies were first stumped and then baffled. Soon, realisation dawned that other routes presented opportunities to reach out to them, creating the "digitally aware". This caused a great deal of floundering to seek out technology. People scrambled to pick tech off the shelves and arm themselves with almost anything that was on offer.
In the near future, after a few months of deployment, we might realise that although we are 'doing digital', it isn't as rosy as they had promised it would be! It will probably also clarify two important concepts in our minds - 1) Pushing products isn't what customers want. And if that isn't what they want, then what do they want? This question might make us see the light, that we really don't know. We always thought we did, but not quite.
This important step in the evolution of digital transformation is what helps us understand the new ways of working. Ushered in by the new normal, it requires us to fundamentally change the way we operate. This realisation will make us "digital utilitarians" - or people who understand how to use technology to do business in a better way.
We are a few minutes away till today's Q&A. If you missed the webinar on Wednesday, as always you can watch it here:
Where do you think is Indian Pharma today in terms of Digital Adoption?
Superb interaction between Anup Soans and Salil Kallianpur with a lot of learnings and takeaways.
Outstanding Presentation Salil.It throws a entire new diamention and fresh perspective to Digital strategy in the journey of Digital Transformation for an organisation.
Great presentation. Classification of Digital process. Eyeopener and Outside in strategy to modify as per customers.
Looking forward eagerly :)
I agree . there is a rush for digital ... but the patience to see the results in marketing is very limited. Since the option for physical is missing, to keep mind busy digital is tried without getting into training the team for digital transformation. hence it merely remains as activity. What we foresee is that once the physical activity starts digital will be go as last priority . hence educating in planning and intermingling - creating robust strategy is need today. especially when digital marketing can cover the span and physical can create the depth. Digital and physcal overlap and architecture is a crucial point
Future is blended mix of all channels, setting up of digital matrix, knowing SOV, driving engaging conversations. Today mostly industry is playing catch up, where our customers are already in digital world...perhaps covid-times helped hasten the process for good. While its difficult to get stated digital preferences from customers so how do you shape HCP preferences by offering immersive experience, with physical interaction equivalence is critical. There were factual trends of, Remote detailing/ Webinars, peaking - during June-Jul but then there was sharp dip - as the markets opened up. Perhaps indicating that Digital cant be alternative but complimentary to F-to-F interaction in this new phygital world. So building customer activation plan during digital journey - is what will sustain future. Aside - Redrafting Learning journey for MRs - changing selling skills framework is as much important. The capability building, upskilling with digital blend is so much critical for MReps curriculum now.