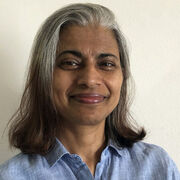 Rethinking Patient Centricity and Patient Engagement by Pharma

Description
We are glad to present this week's speaker:
Aparna Mittal, Founder and CEO, PatientsEngage was earlier Vice President - SEA, India and Strategic Accounts, APAC at Cegedim Dendrite, a European MNC that specializes in software product and data services for the Healthcare and Life Sciences sector.
A little over an hour to go to this Friday's Q&A! If you missed Wednesday's session or just want to watch it again, here it is: https://youtu.be/H_WGCQwHDcg
Thanks Aparna for sharing your knowledge and experience about patient-centric engagement. Lots of takeaways for Pharma companies to engage patients with the value proposition.
Thanks Aparna for clarifying that patient centric is more than a Slogan or Tag Line to capture attention. It's quite beyond that & in India also it's possible. I really like that concept of "Social Prescribing". Pharma companies needs to use more funds for creating, mobilizing & keep supporting such social circles.
Hi, Pharma has always been Product centric and adding patients service will be a good differential and value add. But having said and personally tried to integrate this as one of strategy imperatives for leading brands that I managed. I had to face lot of head wind Just a few list 1. Compliance - Direct to patient 2. Vendor Selection- PAN India presence and reputation at par with company. 3.... See more
Elaborative approach on patient centricity and lot of work need to be done to educate and engage them...Impressive data and presentation..Thanks
It was nice and informative in terms of how we could better patient's experience and give him the treatment that he deserves.However , most of what is shared is difficult to execute in the Indian context. You have correctly mentioned that trust is cardinal in the entire process, therefore it needs to be addressed before launching such comprehensive approach to dealing with patients. Trust def... See more