Publication
Case study: Virtual Advisory Board, Oncology – multidisciplinary, multinational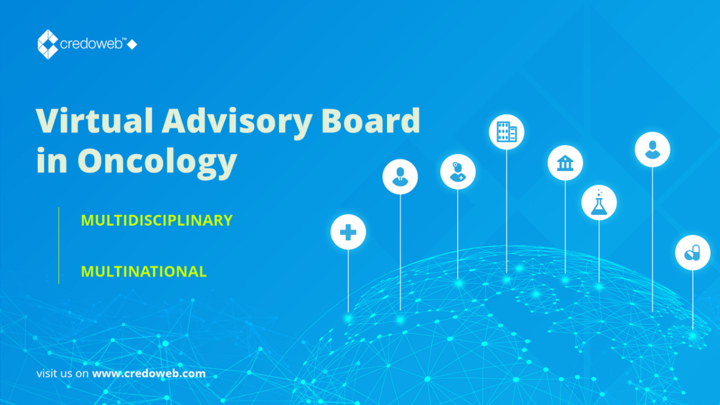 Goals:
A pharma team organized a multinational and multidisciplinary virtual advisory board to gather insights about a certain type of cancer.
Pathologists and oncologists from 11 countries were invited to take part in the VAB.
2 moderators were invited for the 2 groups of medical experts participating.
The VAB participants were expected to provide answers on:
Gene mutation diagnosis and current status of testing in the respective countries
Ideal time for testing
Treatment choices and how to optimize treatment
Role of a medication in the disease journey.
Digital Solution – 3-part VAB in CredoWeb
17 participants, 12 questions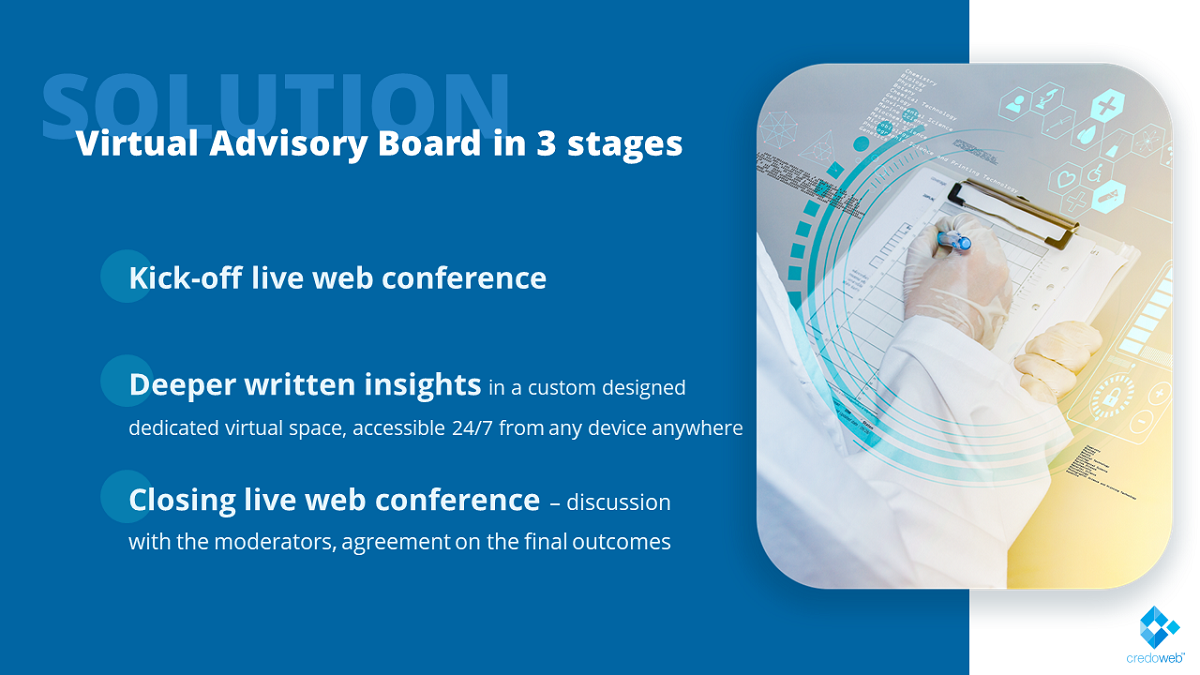 The team organized the VAB in 3 parts:
1. One hour kick-off web call in which the participants introduced themselves. The 2 moderators presented the VAB goals and reviewed key data about disease testing and treatment with short presentations.
2. Two weeks written digital session in CredoWeb platform. A secret digital space was created in the platform dedicated only for the invited participants. The platform was open 24/7 so the experts were able to join multiple times at a time convenient for them.
The VAB space was divided in 2 Blocks visible to all participants: "Diagnosis" for pathologists and "Treatment" for oncologists. Each block had a moderator, pre-read-materials in PDF and videos uploaded for reference. Questions were uploaded in advance in both blocks. In addition, both blocks were accessible for all participants to answer;
Answer section below each question was available with answers published in a chronological order;
Comment section for additional scientific exchange between the moderators and the participants was available below each Answer section;
Customized invitations for the start and reminders for unanswered questions and new opinions were sent to the participants;
Pharma team members were able to follow each participant's activity with the help of a customized Analytics Dashboard that was updated every 24 hours;
CredoWeb provided individual support on a daily basis for all participants during the VAB.
3. After the conclusion of the two-week written session, a closing 1-hour web call provided the opportunity for moderators to analyze the answers and review areas of consensus as well as for the participants to ask additional questions.
Results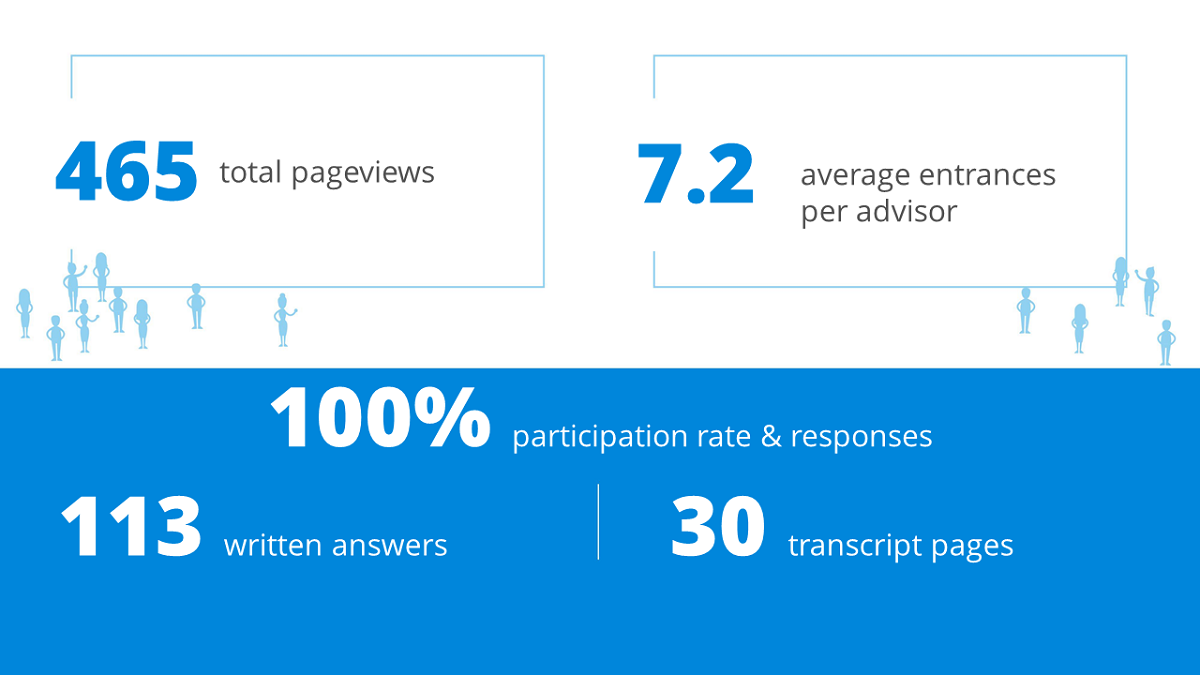 113 answers to the 12 posted questions
19 additional comments
30 transcript pages
465 total page views for the 2-week period
7,2 average VAB entrances per doctor/ 121 entrances in total
5,25 average number of days in which the participants visited the VAB
How we did it
The 2 moderators were engaged with comments and conclusions during the 2-week written VAB. 100% of the invited participants provided their answers to all the questions in their respective block, some even answered questions in the other block.
The over-time approach made it more convenient for the participants to access the VAB page at time suitable for them according to their preferences and working schedules.
Some participants preferred to enter multiple times to read materials and colleagues' answers before providing their own answers. Some shared that this scheme enabled them to be more thoughtful in their responses and even to prepare answers in advance.
There were 7,2 average VAB entrances per doctor/ 121 entrances in total for the 2-week period.
CredoWeb provided final script and final report with all individual activities after the VAB's end.
Interested in Virtual Advisory Boards?
Request a demo:
See other publications by this author