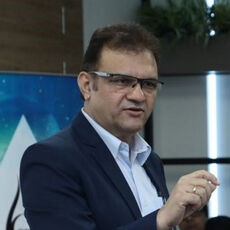 Preparing, Redefining and Cultivating Sales Managers During Crisis

Description
This is the time when ordinary Sales Managers must become Extraordinary Leaders. People at all levels are looking for direction, strength, comfort and hope. This is particularly critical in sales. Sales Force is critical to the success of any organisation, they will continue to remain the powerful drivers of revenue and the most important asset to build and strengthen customer relationships. Salespeople must be confident, determined and energised.
Sales Managers have perhaps the toughest job in this crisis. With the pressure to produce high, the sense of urgency to "do something" is intense. Sales Managers will continue to play a great role driving sales force success. However, they will require a different form of leadership and role than most have practiced before.
Many Sales Managers are unaware of what they need to do well to maximise impact during unprecedented uncertainty. Hence the 3 key challenges for business leaders are:
1. How do we assess Sales Manager preparedness to lead during crisis?
2. How do we help Sales Managers to identify what they need to learn to support their teams effectively?
3. How do they prepare to make a meaningful difference to their Sales Team.
Join Deep Bhandari this Friday 12th June at 5 PM to discuss the most effective solutions.
Live Q&A with Anup Soans and Deep Bhandari starts in one hour. Stay tuned and share your questions and comments in the discussion board.
How are Sales Managers preparing self and their Sales teams in the current crisis COVID 19 scenario?
Providing clear direction to focus on what's important.
2%
Helping and supporting the sales team to learn how to deliver what's important.
9%
Supporting sales teams by providing comfort, hope and motivation to deal with the crisis.
19%
Clearly defining objectives and goals and strategies to achieve success.
4%
Sir,Thanks for these learnings. How to encourage a senior colleague who Don't want to change in this situation & blames Covid19 for his non performance from last 3 mths?
It was an enlightening discussion, you have made a valid point that the second line managers need to drive the front line managers and work on them to develop as future managers, but currently the second line managers are themselves confused, dejected about current crisis and don't have clue how to move ahead, In such cases how the company should play its part for the second line manager to overcome the crisis and manage his team
I liked the entire Webinar. Take away points I noted are as follows : (1) Talk positive with Team (2) Define New Goal & New expectations for the Team & communicate clearly downline (3) Discuss these objectives one on one & follow up (4) Find the gap in Skills at various level & utilize this time to address the same (5) Find new ways to reach Customers,could digital one. (6) Last 4 years there is gradual increase in Doctor's resistance to see Rep as Reps are lacking to create value for the doctor. (7) Organizations will need Trust Advisors to create value for their Brands who should have high level of competencies. (8) Organizations have formulate strategies which are not only customer centric but also patient centric in order to Succeed in coming time. Thanks a Lot Sir ! I am indeed happy to listen the entire Webinar & will implement as much as possible !
Thank you Mr. Bhandari for a most "Relevant to the times" topic for the Sales Managers. This is indeed a crisis never seen by anyone of us. Even the most experienced ones have not seen such unprecedented times....and that is why What the Sales Manager Does NOT know is what it's all about. I really think that the traditional Coach-Guide-Motivate model has to be the basis of handling the present crisis...coupled with smart business tactics of the type you mentioned.."Focus on Margin Growth than only Revenue Growth" will be part of the recipe for Success for a Sales Manager under the present circumstances... Thank you once again.
I don't know is a great possibility. For every one.
Sir, Very Insightful information and lot of Learnings which can be taken from the session.
Deep sir, After a long time glade to learn your both days Very well covered topic with insight. your flow of thought process and deep knowledge of profession have always been new learning, guidence and motivation for us. today topic insight is eye opening for many companies and looking job role from other perspective in this pandemic time. this is time to redefining short term sales process at every level from learning, behaving and implementing. Thank you sir.
Algorithm of Managing people during crisis is excellent
Excellent session Sir . I agree with you that sales leaders need to Learn new Skill , improve their own competencies and they also need to encourage their team members acquire new skills as per the expectations of the customers . The most important is to be available for team members and keep them motivated . Goals need to redefined and action should be taken keeping in mind not only the need of customers but also of own team members . Thank you for this excellent insights 🙏🙏
Thanks a lot Deep Bhandari sir for giving insights to be more effective leaders in changing scenario. We need to act differently to bring different results & satisfying the changing needs of our customers.
Should motivate team on clear designed objectives laid down by management keeping in mind the state of mind of the team during the current crises.Team always needs clearity and if its clear to them and is well lead from the front by the leader it will lead to desired results we are looking for.
Very well covered wide range of topics
Your opinion is important, please participate in the poll and comment section below
Here Sales Manager need to behave like a Transformational Leader who can motivate team to deliver, a philosopher kind of nature which will guide team to a definite direction with positive mode. Remove fear factor and assure them protection. It's Crisis moment & subordinates were really under fear.