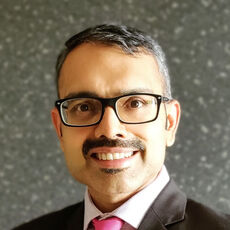 Being Digital: Vanity to Value Creation?
Description
Manish Bajaj
Cluster Head – Gastro & Dental franchise, Dr. Reddy's India formulations
Manish Bajaj is the Cluster Head for the Gastro and Dental franchise for Dr. Reddy's India. During his tenure of 10 years at Dr. Reddy's, he has handled multiple roles including Strategy, Strategic Marketing, Sales Force Excellence, Sales Training, Portfolio Management, Innovation, Medical Affairs, and Regulatory Affairs.
Manish is passionate about championing initiatives to address unmet patient needs through best-in-class medicines and pill-plus offerings. In his endeavour to create enduring value for the organization, he is a rigorous practitioner and exponent of evidence-based decision making, design-thinking-driven innovation, kaizen-inspired business systems excellence, and leader-as-coach culture.
Prior to Dr. Reddy's, Manish travelled extensively around the world as a consultant at McKinsey & Company, New Jersey. During his stint at McKinsey, Manish worked with Fortune-500 companies across the healthcare value chain including pharmaceutical companies, generics companies, wholesalers, and PBMs.
Manish is a Chemical Engineering graduate from the Institute of Chemical Technology, Mumbai (previously UDCT). He is also an alumnus of Massachusetts Institute of Technology (MIT), Boston where he completed his Masters and Ph.D. in Chemical Engineering.
Manish sustains his verve by indulgently discovering everyday joys with his two cheerful sons, running half marathons, and practising mindfulness meditation.
You can follow him on LinkedIn:
https://www.linkedin.com/in/manish-bajaj-7b1993/
Attached files
Manish_Bajaj_Profile_2020.pptx
One of the crisp,precise and To the point Q n A Session.Thanks Manishsir and Anupsir More pertaining to phama as moving forward in 2021 from traditional to dynamic industry.
Hi Manish Good to see you up in the sky Nice pointers you elucidated I have a few questions about each of the digital levers you mentioned Digital is media of PULL and Conventional Pharma has been of PUSH. How do you marry them? a) DIGITALLy ENABLED REP: The core of digital is DATA and, in most of the digital-savvy industry ( e-commerce) it comes directly from end-user however in Pharma it's via intermediary MR act as Gatekeepers/ Treasury by feeding data in CRM, and we all know how that happens, it's more of a liability than need ( All money is frontloaded on sales rather process ) --- How do you upskill the REP? and make both the mindset and financial shift Also, Rep is very wary and possessive about the close relationship and insight they enjoy with the key customer: The more Digital Data (Information) they capture and share directly into the company data lake the more dispensable and vulnerable they (MR) becomes. Data Authenticity and Sanitization has been a perennial challenge. B)TELE REP: This is more to do with customer behavior of interaction since Dr are hard-pressed about their me-time. What is the pull the industry offers to give their time slot to the rep, Also all Tele - Conversation is recorded and will be under the hawk's eye of compliance (No Business Talk) C) SOCIAL MEDIA PLATFORMS: Though there is an upswing of Webinars being broadcasted live on FB/ Instagram/ Youtube, How do you control that the conversation remain close-loop withing Dr only and no patient can access them. The leakage of Dr conversation in open social media may challenge the current treatment of patients and may become a challenge to existing Dr- Patient Relationship thereafter D) DOCTOR KNOWLEDGE PLATFORM: They are good, but they don't disclose and identify (N=1) the traffic, hence the information provide remains all illusive ( 3000 Participants/ Clicks looks good on their deck; but if you ask who are they: As per policy, they can't disclose identity ) hence it boils down to trust factor only (Guestimate) E) E CONSULT PLATFORM: They come with challenges as Dr are dependent on their rating and visibility for channeling patient flow to their clinic (Ref Practo Fiasco), also their consultation fee is exposed and tax liability increases for them F) EMR PLATFORMS: They are all independent, data portability, HIPPA Compliance, and patient identity remains a challenge G) E-COMMERCE and E- Pharmacy: E-RX, Govt Guidelines, Risk of Brand Substitution, AIOCD still remains a challenge. These are a few of the hula hoop which pharma has to dance through Thanks and Regards
Manish, with so much of noise happening around digital, more so in this pandemic and with so many people throwing their opinions on the subject, for the first time I have come across such a crisp, to-the-point and insightful presentation on digital. What I liked most is the fact that you raised real questions and offered practical viewpoints, within a strong conceptual framework As you have rightly put in one of the slides, we are still at a 'forming' stage (and not at the 'know all' stage 🙂). This realization will help all of us to always put a learner's hat
An amazing presentation Manish, some of your slides were very insightful. Keeping in mind the ROI culture our sales team has lived so far, marrying the digital world to the physical world is definitely a challenge. I am very keen to understand the different steps the industry is going to take to meet this requirement. Any insights or view points are most welcome 🙏🏻
Thanks Manish it was crisp and very practical. Many of the insights can be taken as an action.
Thanks Manish for sharing your valuable insights. I'm sure the as companies go deeper in evaluating platforms, they will realize the merits of CredoWeb's integrated digital offerings together with customer-insights in creating path of distinction and faster alignment with doctors' mindsets.
Great presentation by Manish Bajaj. As he rightly put it Digital marketing is an evolving platform. The options need to be carefully evaluated. Keep experimenting the available options to get the Right fit for the organization..
Hi, How do I join the webinar. I have not received the webinar link on my mail.
Excellent initiative from MedicinMan
Enrwaching association with all esteemed Sir.