Publication
Smaller Indian pharma companies bore the strongest impact from the pandemic, a national survey shows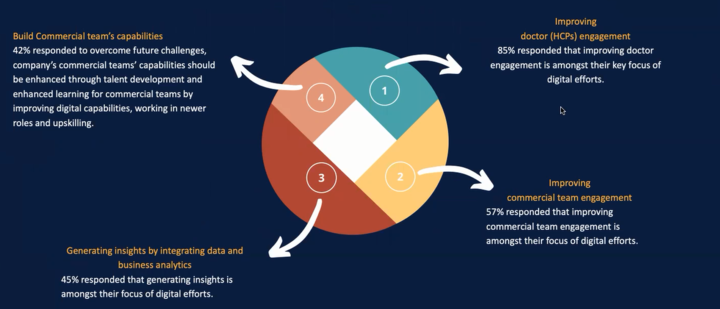 Smaller Indian pharma companies with less than a 100 MSRs and less than Rs.100 Cr. turnover were the most highly impacted from the COVID-19 pandemic in the last 12 months. That can be explained by the fact that contact with local doctors was their only channel of communication and it was shut as India was one of the first countries to go into a lockdown in March 2020.
As a whole, Indian domestic companies saw greater impact on their revenues compared to MNCs. The biggest reasons for revenue impact turn out to be lack of customer engagement and supply chain issues.
These are some of the conclusions in a national survey conducted by MedicinMan, Indian Pharma's 1st digital magazine.
Major changes in the work of pharma companies in the pandemic
MedicinMan did a very detailed market survey during the last 12 months. Pharma professionals coming from a very wide range of therapeutic segments from more than 50 Indian companies were surveyed. Responders were at different positions in companies –from leadership to marketing and product marketing to sales and sales marketing.
The companies that were surveyed are with different profiles. 33% were India –based with domestic focus. 34% were India-based with mix of domestic and foreign focus. 29% were foreign based multi-national companies (MNCs).

Biggest impact was on the field forces
The biggest impact of the crises was on the field forces and from there – for the revenues, shows the survey. Almost 50% of the companies have more than 1000 medical representatives.
The top 5 pharma companies in India have field forces as much as 10 – 12 000 people who go out and meet doctors on a daily basis. So for them the impact of COVID-19 pandemic was very huge as you can imagine suddenly such a huge field force been forced to stay home and not being able to work from home", commented Anup Soans, founder and editor of MedicinMan.
Building brands before the pandemic was essential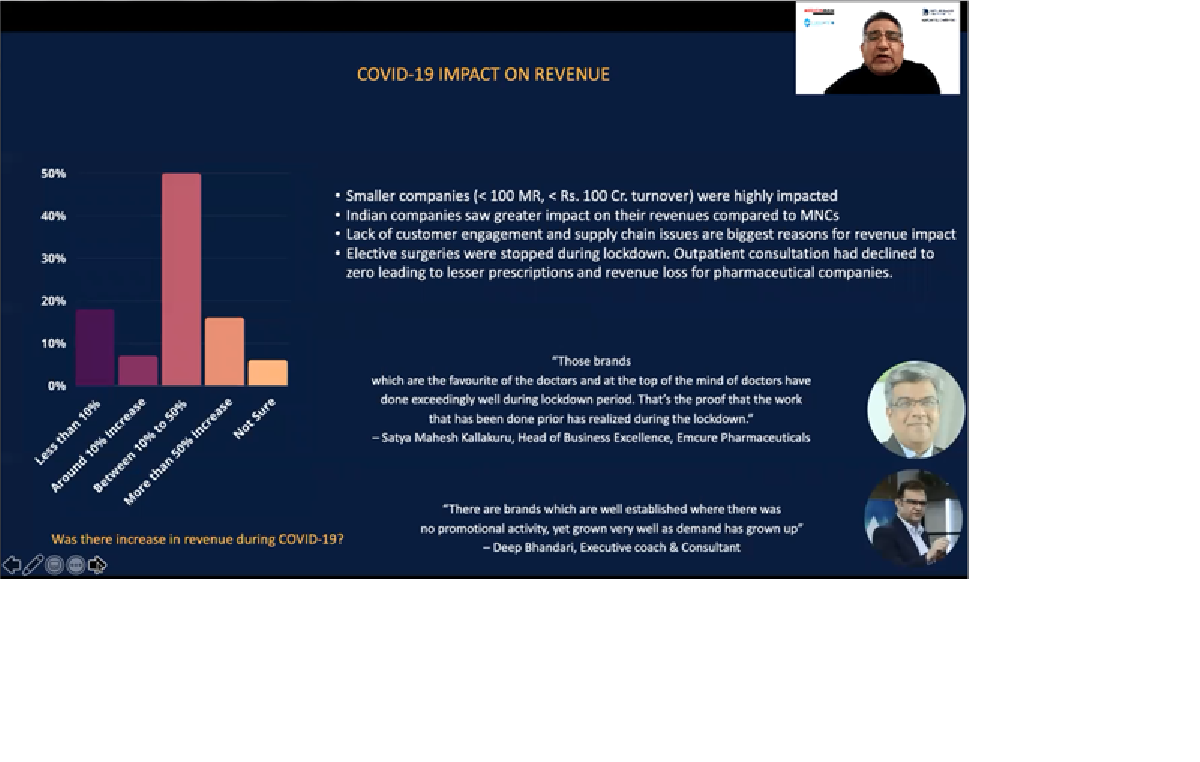 Building brands before the pandemic proved to be an essential factor so those companies that have worked in advance in this respect – largely MNCs and also several domestic ones, saw lesser impact on their revenues compared to those companies that had focused only on volume sales based on transactional model, the survey demonstrates.
COVID-19 impact on sales calls
The cardiovascular and diabetes segments saw a major impact on their sales calls. Around 50% of the medical doctors in India still do not welcome face-to-face meetings with MSRs, the survey shows. So the companies have come with their own virtual conferencing apps. But the real challenge is to offer valuable content as doctors are rejecting already the old content – repetitive content and brand messaging. Also, time for detailing brands to doctors is more limited for the MSRs now but we can see a slow progress there.
How is the hybrid model (mix face-to-face and digital) to engage doctors perceived by pharma in India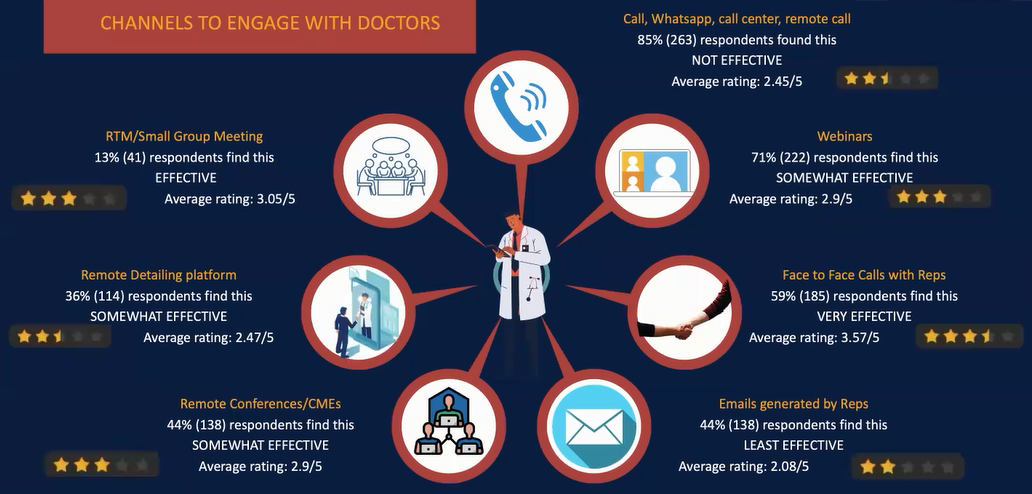 More than half of the respondents in the the MedicinMan survey still find the face-to-face calls very effective.
59% of the respondents still find face-to-face calls with Reps very effective, the survey shows.
71% find webinars somewhat effective
44% find remote conferences and CMEs somewhat effective
13% find RTM/Small group meeting effective
85% find calls, Whatsapp,call centers, remote calls not effective
The results show clearly that we have not fully grasped what is the hybrid model in digital marketing in India and we are in the early stages of understanding this in the pharmaceutical industry", commented Anup Soans.
E-tools for medical Reps in India
50% of the companies have already equipped their Reps with Ipads and suitable content, the survey shows. While another 50% - the smaller companies, still rely on paper-based promotional tools. On the other hand, most of the MNCs have adapted digitally in some way or another.
Challenges faced in engaging doctors
28 of respondents point the lack of right content to engage doctors. 26% of respondents point as essential the sales force capabilities, while 17% point the lack of digital infrastructure. 16% point the marketing teams digital capabilities.
Focus on company's digital efforts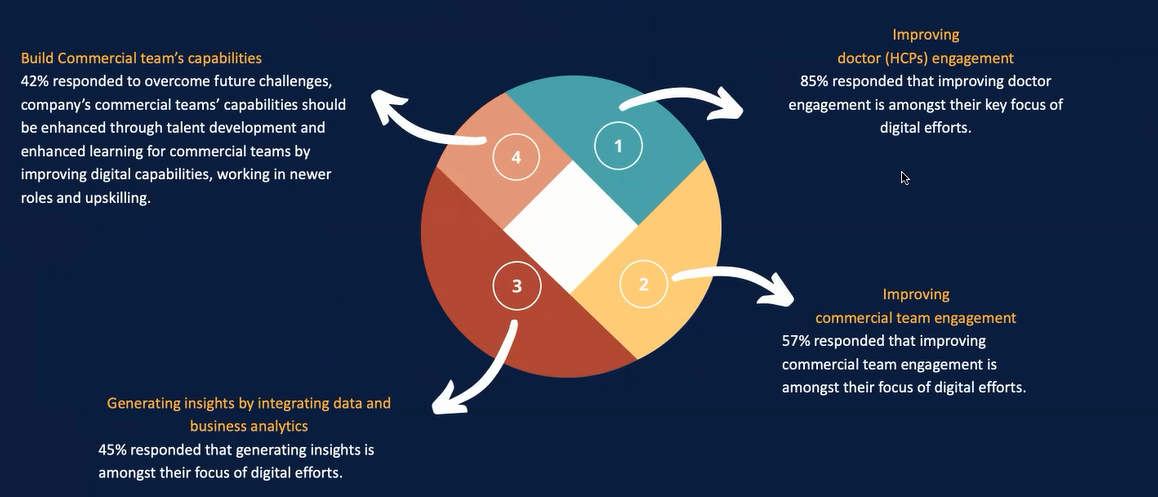 85% of the pharma companies responded that improving doctor engagement is among their key focus of digital efforts. And 57% responded that improving commercial team engagement is among their focus of digital efforts.