Publication
CredoWeb offers new interactive training environment for pharma in India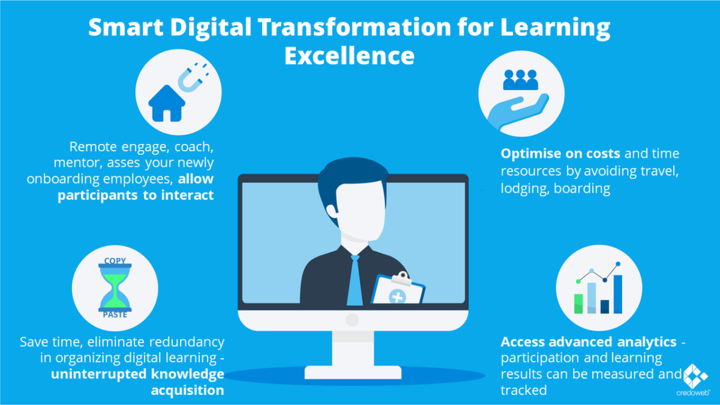 New challenges such as COVID pandemic require new solutions. Travel restrictions and social distancing changed our communication with trainings being no exception.
Going beyond LMS, CredoWeb offers now new interactive and full-featured training environment empowered with latest digital tools and advanced analytics to open gateways to a highly impactful and uninterrupted learning eco-system.
The new training environment is suitable for both inhouse corporate trainers and for independent trainers. Trainers retain the intellectual property of their uploaded content and can reuse it throughout the platform.

Simple and easy onboarding for uninterrupted learning
Become online trainer by onboarding our ready-to-use secure and robust platform
Quickly convert existing training videos/PPTs into a learning module or courses
Easily enroll learners and begin imparting technology empowered trainings
Flexibly update or create new courses at your will
Manage everything and everyone at one place with total control
Suitable for Inhouse Corporate Trainers or Independent Trainers

Whether you lead inhouse corporate training or are an independent trainer, you will be able to instantly deliver learner-centric training sessions by flexibly bundling training modules on sales-skills, medico‑marketing‑skills or soft‑skills to form an online course befitting your own requirements and making learning experience personalized, simple, flexible and seamless.
Digital induction or on-boarding training of your newly joined MRs or employees
Self-paced voluntary refresher training for sales or marketing professionals or allied HCPs
Develop your ability to service multiple training requests from different BUs or locations
Details of inclusions
You will have access to a comprehensive learning environment including full featured LMS which allows you to seamlessly create, update course content and communicate with users. An array of leading-edge digital learning tools will be at your disposal to create your own learning modules:
Self-paced interactive e-Learning modules from available instructor-led presentations/videos
Virtual collaborative classrooms on-demand live audio video interactions
Provision for course credits
Learner's competency testing or assessment
Conduct opinion polls or surveys
Customizable certificates of participation
Text and media-rich messaging
Periodic Newsletters
Can use gamifications to motivate using sense of achievement
Learner-centric activity dashboard with insightful analytics
What is more, the new training environment is complemented by:
Learner-centric activity dashboard with insightful analytics based on reach, frequency, involvement and engagement tracking
Dedicated and secure course pages with detailed course descriptions
Higher search listings with inbuild search engine optimization SEO
Hand holding and technical support for using platform tools and feature
Choose smart digital transformation for learning excellence

The flexibility imparted by online on-demand courses to garner knowledge at one's own pace is one of the most effective ways that maximizes non-stop learning.
Facilitate anytime, anywhere, any device availability of digital learning and reference material for uninterrupted knowledge acquisition
Remotely engage, coach, mentor, assess your newly onboarding employees or voluntary learners from the comfort of their home
Deliver a blend of instructor-led videos, self-study courses, tests, credits, opinion polls, digital certificates or even engage with on-demand live audio video interactions
Optimise on costs and time resources by avoiding travel, lodging, boarding
Access advanced analytics wherein participation and learning results can be measured and tracked to provide feedback to learner and / or his manager
Switching from manual lecture repetitions to reusability of recorded / digitized content - reduces huge strain and allows you to focus on core assessment of the participants
Allow participants to interact with you or co-participants via audio, video or text chat or allow them to even upload their own detailing video for your assessment
Considering progressively reduced attention spans, facilitate engagement with small bite-size microlearning like quick videos, short articles, survey/polls, smart quizzes etc.
Gamification for fun blended learning with achievement milestones / consistent progression.
For packages and further information contact:

Manish Badonia
mbadonia@credoweb.in
+91 9426649896
Sujas Shah
sujas.shah@credoweb.in
+91 9687139970