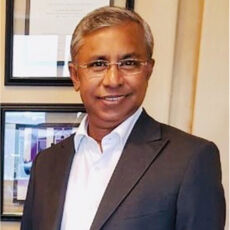 Winning Insights for Pharma in a COVID-19 World

Description
This weeks's speaker, Dr Sanjoy Mitra holds an MBA and PhD in Management Sciences. He is Managing Director of SMSRC and a practicing professional since 1986 in the field of market research and pharmaceutical strategic marketing. He has helped most of the leading pharmaceutical organizations (both nationals and multi-nationals) in their process of maintaining and acquiring leadership through prescription research and data based strategic consultancy for perspective setting, marketing restructuring, field force planning, brand building, therapy management, portfolio management and achieving time bound targets.
As usual, Dr. Mitra could enlighten everyone with his expertise and experience. The important observation which was clear from the survey and his explanation was , that once Covid-19 vaccine is out , the so called "New Normal" will revert to "Normal - Normal" with likely greater intervention of digital tool. There is unlikely to be a digital whitewash which many Digital Experts have initially predicted or projected. So human touch is going to stay , the challenge is how to make this human touch more digitally enabled for better ROI !! Great insights. Awaits further analysis and planned publication !!
It was really an insightful discussion with facts & figures . Rightly said by Dr Mitra its how the Software Companies & Pharma Industries tap on the aspirations of the doctors to turn digitally into action will be the real game. Also the key is to work on the basics of marketing & focus on your key specialties & customers & work on prescription generation & build strategies looking at the long term will be the key for any pharma company to suceed in the future.
insights with facts n figures gives new dimensions to way forward. Also new info demography predernxe among women high compared to males. Thks.
wonder full insights and facts and data about covid era market.
Very Insightful discussion
Very interesting Covid survey findings. Pharma companies who want to engage Doctors digitally need to translate the awareness and aspirations of Doctors to use Patient Management Softwares. They should start selectively with younger doctors and lady doctors who are favourably inclined to digitalisation.
Nice session n go to basics is the mantra.
Good to hear from you Sanjoy. A wake up call to go back to basics of creating a meaningful value proposition for brands followed by relentless execution.
May I know ... at what time .. it is going to start exactly?
Will we get the Recording
I was studying SMSRC Insights and learned to my surprise, from the Covid Survey, that majority of the Doctors preferred to meet MRs physically. More so from Urban India. Does this suggest that Pharma Companies should strategically start digitally engaging the Doctors in rural India before the urban markets?