Publication
Why mindset is so important ?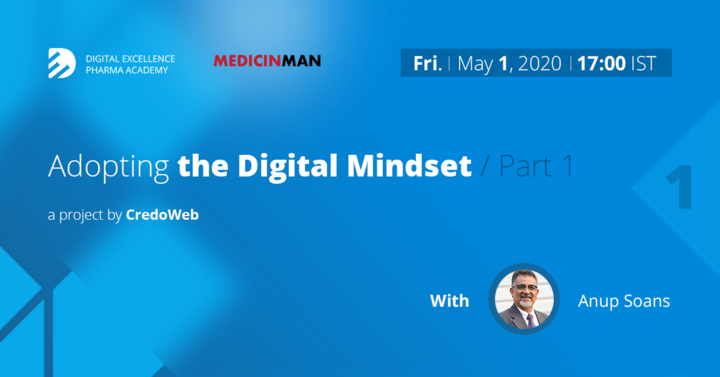 Digital transformation refers to the transformation of business and organizational activities, processes, people's competencies and models - to enable organizations to use and exploit digital technologies to improve business processes and outcomes.
But when talking about it, business leaders often resort to discussing IT infrastructure and technologies. That is only part of the equation.
The core is in the leaders' mindset to adopt the changes during crisis, to move wise and fast.
On 1 May was 1st of a series of online events and webinars part of Digital Pharma Excellence Academy, organized by CredoWeb and MedicinMan.
Meet our great, inspiring speaker Anup Soans, who will be available and answer your questions in the next week. You just need to post them in the discussion board of the event.
Mr. Anup Soans who began his career as a Medical Representative and Oncology Product Specialist and rose to the position of CEO at a company specialising in CME and scientific communications talks about why people's mindset is so important especially during crisis.
What is the difference between fixed and growth mindset?
What is the correlation between mindset change and behaviour change?
And what is the equation for change
These were only few of the topics discussed during the 1st session.
Follow Digital Excellence Pharma Academy page and stay tuned for our webinars - every Friday @ 5 pm IST.